How did Brad Pitt prepare for his role as the gypsy fighter in "The Big Kush"? The actor called Guy Ritchie himself, trained in boxing and made up an accent for the character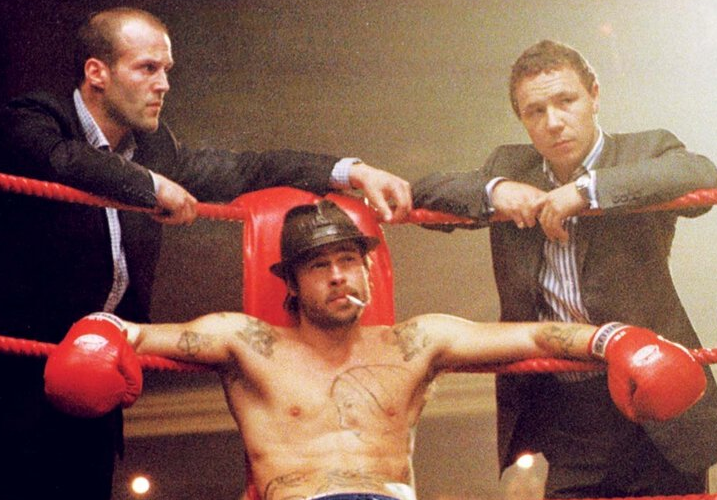 And he even pumped himself up to look like a knockout.
Brad Pitt is loved for his different roles, but many remember the movie "Fight Club". There, the actor played the iconic character of the Chuck Palahniuk novel, Tyler Durden. The soap seller, non-conformist and rebel, who became a symbol of the fight against consumer culture, Pitt was especially successful. And the magazine Empire even put Durden in eighth place on the list of the greatest movie characters.
For the role of a brawler in "Fight Club" Pitt pumped up and surprised the audience with his dice. But really Pitt plunged into the world of martial arts in "The Big Cush," Guy Ritchie's cult film. There the actor played a Gypsy fighter, for which he trained for over a month with a top trainer from Los Angeles and mastered boxing techniques from scratch.
Pitt pumped up for "Fight Club": he sat on a high-protein diet and ate six meals a day. But he trained in boxing for "The Big Kush" – the actor did not know how to fight
Brad Pitt has always been famous for his good form, although he was not an athlete by nature. He played basketball in school, but he gained muscle mass for the filming of "Fight Club". According to the plot Pitt fought a lot, for the sake of which he tightened his shape – the relief body of Tyler Durden became one of the symbols of the film.
At the time of filming "Fight Club" Pitt was about 35 years old, and he weighed under 75 kilograms. Preparing for the film, the actor did not gain weight, but only reduced the amount of fat in the body – up to 8%. As a result, Pitt added muscle mass, but at the same time got a relief figure – the very one that director David Fincher demanded from the actor.
To keep his muscles toned, Pitt stuck to a high-protein, low-carbohydrate diet, eating six meals a day. The menu was based on eggs, meat and low-fat dairy products. From sports supplements, the actor used protein shakes and bars.
In "Fight Club," Pitt played an amateur fighter, but did not seriously engage in martial arts for the role. However, before shooting "The Big Piece" (it came out a year after "Fight Club"), Brad had to train harder. The actor himself called Ritchie and offered cooperation when he saw "Cards, Money, Two Guns". But the role of a boxer – he did not get right away.
Initially, in "The Big Cush," Ritchie chose a different character for Pitt. But for this actor had to speak in a London accent, and the American did not succeed. Then Ritchie gave Pitt the role of a gypsy boxer Mickey, which became an adornment of the film.
The hero lived by the precepts of the Irish nomads – in trailers, with a huge family and a bunch of brothers. To make money, he boxed with his bare fists and was known as an unbelievable knockout fighter. By the way, undefeated heavyweight boxer Tyson Fury comes from the same background – his father was a fist fighter and still lives in a trailer, observing the nomadic traditions of British Gypsies.
But the Irish accent of a rare people (there are not more than 50 thousand paveys in the world) was not easy to repeat, either. In fact, Pitt invented it himself – he just quickly and illegibly spoke in English. But the actor doubted that Guy Ritchie would accept such a solution to the problem:
"I was walking around London at six in the morning like a maniac and thinking about it. Then, late at night, I called Ritchie and asked: "Is it okay if my lines are incomprehensible?" He replied, "Yes."
However, Pitt's biggest problem was boxing – it turned out the actor couldn't fight.
For his role as Gypsy in "The Big Kush," Pitt gained 4.5 pounds of muscle and took an express course in boxing. That helped him reincarnate and play a bully knockout.
In "The Big Cush," Pitt was determined that he wanted to move in the frame as a real fighter. Not just portray him – as he did in "Fight Club".
To do this, Pitt went to Joe Goossen, one of the most famous boxing trainers in Los Angeles. Pitt trained two hours a day for five weeks. During that time, he gained 4.5 kilograms of muscle mass and learned to wield his body in such a way that convinced everyone – he could really knock out with one punch.
"The thing is, when you spend most of your day hitting heavy objects, you get pumped up. For those scenes in the movie, he didn't just want to look strong, he wanted to be strong," Gussen recalls.
The trainer admits: he was shocked when he heard from Pitt that he couldn't box at all. After all, in a short time he had to train the rookie so that on the screen he would play a knockout who knocks out giants with one punch.
Yes, the technique might not have been perfect, because Pitt was given the role of an amateur fighter. But the knockout's movements – most of them natural – could not be imitated by Brad before he started training. And it was a daunting task for Goossen.
"The first thing we did was discuss the movie and his role. The character he played was supposed to be a one-punch knockout master – a brawler with inhuman strength in his right hand. One of the goals was to give him a right hand that looked really good – one that would knock you to the ground. And, of course, a strong jab to complement it.
Brad needed to keep his shoulders, hips, arms, and everything else in the right position to make his punches look good. The secret was to give him all these tools and teach him the basics. In boxing you have to have balance and grace. It was a comprehensive program, I wanted to make a complete fighter out of him," the trainer recalled.
The first thing the trainer did was teach Pitt to stand – and not let him throw any punches. Goossen wanted to make sure Brad mastered the footwork, learned how to move in a boxer's way to look believable on screen:
"For the first few days, I kept him from throwing punches. And before we got to jump rope or shadowfighting, I wanted to make sure he had the right stance. I had him moving back and forth, putting his feet in the right position, on his heels, on the balls. The footwork was probably the most challenging element of his training.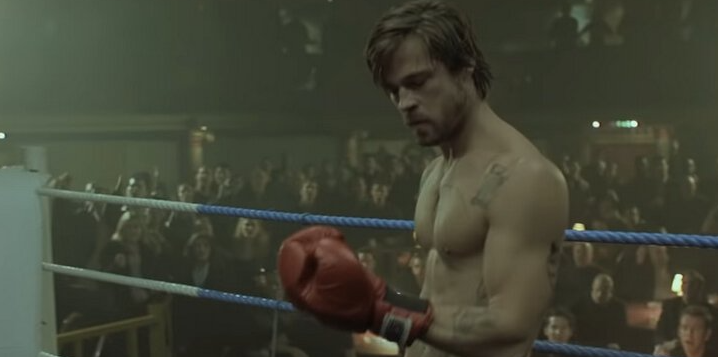 But it only took one week for him to start moving in the right direction. I've worked with a lot of young amateurs who are going to be professional level fighters. I trained Brad the same way I would train these amateur fighters, except, of course, with heavy sparring."
Pitt turned out to be a talented student, and on screen he played a street fighter perfectly. The swagger of the fight and the unexpected punches – Brad's moves can be compared to modern fist fights, and you won't see much difference. Yes, if you watch the punches in slow motion, you can see that they are staged.
But "The Big Cush" was a relatively inexpensive movie – with a budget of $10 million. Sometimes it was not enough, and then Ritchie cheated: for example, when shooting fight scenes crowd moved along with the camera, because there were not enough people. If you look closely, you can see this effect. As well as some of the punches that Pitt and his on-screen opponents deliberately hit past or in the protected parts of the body.