"If you only try to box with 'sacks,' there will be no progress." Kazakhstan woman ready to win title in fight with protégé of promoter Golovkin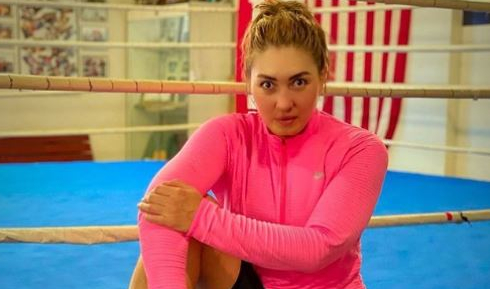 Kazakhstan boxer Aida Satybaldinova (6-2-1, 2 KO), nicknamed "Lady Sparta" and called "GGG among women" by overseas journalists, now looks ready to step into the ring almost every month. The interval between her fight with 24-years-old Jaina Pavilus and another one with American Chelsea Anderson (5-0, 2 KO) won by unanimous decision of the judges will be one month and 16 days.
Meanwhile, the 31-year-old U.S. representative is a protégé of Gennady Golovkin's promoter Thomas Leffler – and he obviously has no plans to write Chelsea off in August. We can certainly say that this veteran player on the world market of professional boxing is almost sure in an easy victory of his ward over the Kazakhstani boxer, otherwise there would be almost no chance to hold such a confrontation.
But what does "Lady Sparta" think about her prospects in the upcoming fight? We asked her about her plans to fight Chelsea Anderson.
– Aida, Thomas Leffler obviously thinks he's got it all figured out — and thinks you're a very convenient opponent for his protégé. How are you going to confuse their plans?
– In general, I'm not interested in what their plans are. Because my goal is to win this fight. I have a very competent coach in my team, Carlos – that's who we're working with tactically. I can't share exactly what we've prepared now, as it's our work, which we're polishing up day by day – and so far no one knows about it except my team. Especially – my opponent's side. Let them prepare – and think it will be an easy fight (Laughs).
– In general, have you had time to study this Chelsea Anderson in detail? Do you see her weaknesses that you can exploit?
– Yes, of course I have. In fact, there's nothing supernatural about her. The American's favorite punches are the right uppercut and the right straight. She will use the right uppercut and the right straight which means that if she is given some distance to hit her, she will use it. Her jab is sluggish. She doesn't work the body at all. She catches her opponents with her right hand. Yes, she is tall, she has longer arms, but I can't mark her physical qualities. She does not move on her feet like a boxer. She moves slowly in the ring, in my opinion. Well, that's all, in principle. I can't call her "pouty" either. I've seen her close her eyes when the blows are flying at her and she tries to escape to her own distance – that's understandable. I should just box more carefully and not get under her right arm.
– You're not worried about being sued? I think that Leffler will try to use different resources to win her fight.
– I don't think they'll try to sue her in the States, like they do in Mexico. They can make it a draw so as not to spoil their reputation. As, for example, in my debut fight, if you remember, with Lisa Porter. I won that fight, but they made a draw, because they made the fight for her. The team took care of all my expenses, even the medical commission – and medicine is not cheap in the States. They thought it would be an easy fight for Porter.
No misgivings, in general: I believe that you must never be afraid to take a risk and take a challenge, only then you will grow and progress. If you only try to box with "bags", there will be no progress. And I want to grow and get better every time.
– Do you already have a specific plan for the fight?
– Yes, I have two plans. And, by the way, this is the first time, when my coach and I sat down and discussed everything thoroughly. If something goes wrong, we go to plan number two. As I said earlier, I can't talk about plans now for obvious reasons.
– What are your advantages over the American, what do you think?
– I always go into the ring as if it's the last time. Especially in such a tough sport there should be spirit, I've never had a problem with that. As I said before, in my opinion, if you compare who is stronger mentally and physically, I think the American is inferior to me in those positions.
I won't make any predictions, it's up to the Almighty. But I am preparing to win this fight and to get one of the most prestigious WBC International belts. And, InshaAllah, this victory will open new doors for me.
I want to take this moment to thank you all for your support! Including you, for your work.
Good luck and all the best!